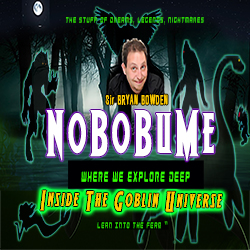 Hey Goblins
Ronald Murphy and Bryan Bowden We are proud to welcome Linda Zimmermann - Award winning Author, Researcher, and Investigator. 
We are discuss Mysterious Stone Chambers, Hudson Valley UFO's, Ghosts and Zombies. Don't miss it,
SAVE THE DATE
Inside The Goblin Universe
with Special Guest Linda Zimmermann
Tuesday February 27, 2018 at
on Black Swamp Digital Radio
Join us in the Swamp to chat.
www.unknownspirit.con/enhancedchat/index.php
Linda Zimmermann's Website: 
www.gotozimm.com
Inside The Goblin Universe Websit: 
www.InsideTheGoblinUniverse.com


Goblin Universe Social Connection




Global Video Broadcast YouTube [outside the USA] 8:00 PM GMT, 3:00 PM EST, 12:00 PM PST: www.youtube.com/channel/UCG8qspgGU2RuCbMSS7DaYXA




Like Us On Facebook www.facebook.com/insidethegoblinuniverse/




Subscribe to our YouTube Channel: Inside The Goblin Universe




www.youtube.com/channel/UCG8qspgGU2RuCbMSS7DaYXA




Tweet Us on Twitter @GoblinUniverse www.twitter.com/GoblinUniverse




Lean into the Fear™
Play Now