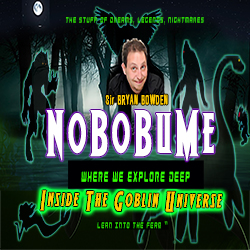 On the premier of INSIDE THE GOBLIN UNIVERSE
Hey Goblins
Ronald Murphy and Bryan Bowden TAPS into the Ghostly Realm with non other Ghost Hunters own Shari DeBenedetti. We explore the world of the unknown, Investigations as well as discuss what it's like to be in the spotlight as a TAPS Member. 
This is the premier episode of Inside The Goblin Universe on Para X Radio. Do Miss It.
SAVE THE DATE
A Night Not To Be Missed!
Inside The Goblin Universe
with Special Guest Shari DeBenedetti
Thursday April 5, 2018 at
on Para X Radio Network 
http://www.paraxradionetwork.com/
Join us in chat.
Inside The Goblin Universe Website: 
www.InsideTheGoblinUniverse.com
Goblin Universe Social Connection
Global Video Broadcast YouTube [outside the USA] 8:00 PM GMT, 3:00 PM EST, 12:00 PM PST: www.youtube.com/channel/UCG8qspgGU2RuCbMSS7DaYXA
Like Us On Facebook www.facebook.com/insidethegoblinuniverse/
Subscribe to our YouTube Channel: Inside The Goblin Universe
www.youtube.com/channel/UCG8qspgGU2RuCbMSS7DaYXA
Tweet Us on Twitter @GoblinUniverse www.twitter.com/GoblinUniverse
Lean into the Fear™
Play Now